In this video tutorial, I will show you, how to build a awesome looking WordPress blog using GeneratePress free theme.
We'll be using a free Gutenberg blocks plugin called 'Generate Blocks' to build custom home page layouts. You can download the latest version of GeneratePress free theme from WordPress repository or from the GeneratePress website directly.
It's a quick and short video, so please watch the video without skipping.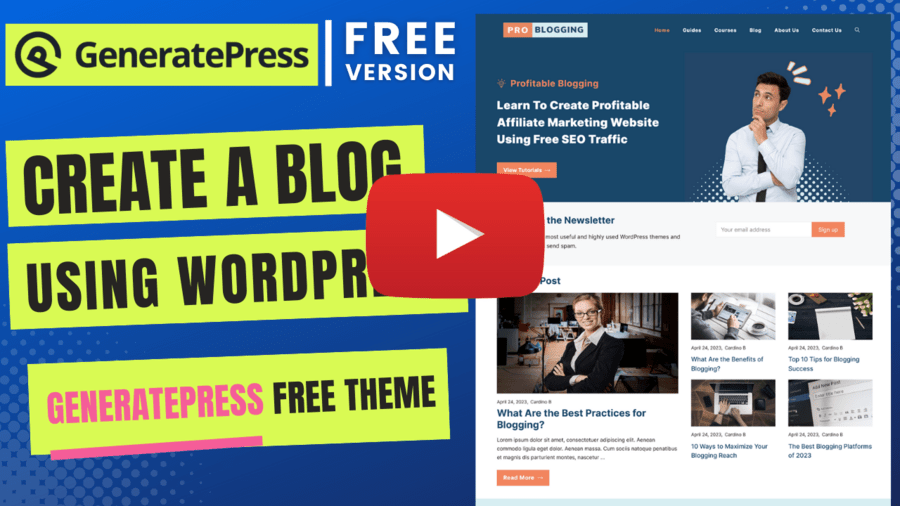 Table of Contents
Recommended Hosting
Required Theme
Required Plugins
Color Palette
| CSS Variable Name | Hexa Code | Actual Color |
| --- | --- | --- |
| contrast | #222222 | |
| contrast-2 | #575760 | |
| contrast-3 | #b2b2be | |
| base | #f0f0f0 | |
| base-2 | #f7f8f9 | |
| base-3 | #ffffff | |
| accent | #194769 | |
| accent-2 | #f2855e | |
| highlight | #d7eef2 | |
Download Image Used in Welcome Banner
Download Banner Image
Custom CSS Code
.sidebar .widget {
	border-top: 5px solid var(--accent-2);
}
.post-date-meta::after {
	content: ",";
}
.newsletter input[type="email"] {
	background: var(--base-3);
}
.page-header {
	background: var(--highlight) !important;
}
PHP Code Snippets
Custom Copyright Text
add_filter( 'generate_copyright','wpframer_gp_custom_copyright' );
if (!function_exists('wpframer_gp_custom_copyright')) {
	function wpframer_gp_custom_copyright() {
		$year = date("Y");
		?>
		© <?php echo $year ?> WordPress Site Development• All Rights Reserved!
		<?php
	}
}
Home Page Gutenberg Blocks (GenerateBlocks)
1. Welcome Banner Block

<!-- wp:generateblocks/container {"uniqueId":"4e34cbba","backgroundColor":"var(\u002d\u002daccent)","isDynamic":true,"blockVersion":3,"paddingSyncUnits":true} -->
<!-- wp:generateblocks/container {"uniqueId":"c0a14d5b","isDynamic":true,"blockVersion":3,"useGlobalMaxWidth":true,"marginRight":"auto","marginLeft":"auto","paddingTop":"20","paddingRight":"20","paddingBottom":"0","paddingLeft":"20"} -->
<!-- wp:generateblocks/grid {"uniqueId":"a87e1598","columns":2,"verticalAlignment":"center","isDynamic":true,"blockVersion":3} -->
<!-- wp:generateblocks/container {"uniqueId":"65d18987","isGrid":true,"gridId":"a87e1598","isDynamic":true,"blockVersion":3,"sizing":{"width":"50%","widthMobile":"100%","widthTablet":"40%"}} -->
<!-- wp:generateblocks/headline {"uniqueId":"4ebde88f","blockVersion":2,"display":"flex","alignItems":"center","fontSize":28,"fontSizeMobile":22,"lineHeight":1.5,"letterSpacing":0.02,"backgroundColor":"","textColor":"var(\u002d\u002daccent-2)","linkColor":"","linkColorHover":"","borderColor":"","highlightTextColor":"","hasIcon":true,"iconColor":""} -->
<h2 class="gb-headline gb-headline-4ebde88f"><span class="gb-icon"><svg viewBox="0 0 497 511.56" clip-rule="evenodd" fill-rule="evenodd" image-rendering="optimizeQuality" text-rendering="geometricPrecision" shape-rendering="geometricPrecision" xmlns="http://www.w3.org/2000/svg"><path d="M300.56 479.77c-7.13 10.81-16.58 19.02-27.16 24.39-18.88 9.69-41.39 10.11-60.11-.19-6.34-3.56-12.19-8.33-17.27-14.39l104.54-9.81zm-.19-302.95c3.34-.07 6.74.49 10.04 1.61 6.24 2.11 12.26 6.24 16.89 11.73 4.66 5.51 7.99 12.45 8.83 20.16.39 3.61.24 7.38-.58 11.23 3.5 3.1 6.4 6.61 8.59 10.35 3.32 5.67 5.05 11.96 4.86 18.35-.18 6.43-2.31 12.87-6.68 18.8-2.8 3.79-6.52 7.36-11.22 10.56.48 9.94-2.44 18.87-7.19 25.75-5.33 7.72-13.07 12.95-21.07 14.36-1.71 7.01-6.33 13.2-12.31 17.49-7.45 5.34-17.19 7.84-26.06 5.41-6.62-1.82-12.65-6.23-16.75-14.05-4.99 8.58-11.9 13.11-19.13 14.61-8.59 1.78-17.48-.85-24.17-6.05-5.44-4.24-9.51-10.26-10.89-17.06-2.83-.1-5.69-.65-8.48-1.6-6.08-2.05-11.96-6.05-16.56-11.36-4.6-5.31-7.97-12-9.01-19.45-.55-3.94-.46-8.07.44-12.3-3.09-2.76-5.73-5.89-7.8-9.26-3.49-5.66-5.42-12.06-5.34-18.67.07-6.63 2.18-13.36 6.76-19.59 2.7-3.69 6.29-7.2 10.84-10.42-.07-1.3-.07-2.58-.03-3.84.36-9.69 3.94-18.22 9.14-24.58 5.37-6.58 12.6-10.92 20.03-11.95h.04c.27-1.21.62-2.41 1.05-3.58 2.4-6.51 7.35-12.07 13.42-15.6 6.09-3.55 13.42-5.11 20.56-3.63 6.88 1.43 13.47 5.6 18.4 13.41 4.93-7.81 11.52-11.98 18.4-13.41 6.49-1.35 13.15-.18 18.89 2.71 5.66 2.86 10.5 7.44 13.47 12.95 1.18 2.19 2.07 4.51 2.62 6.92zm-46.02 4.16v128.75c.59.78 1 1.71 1.17 2.74 1.85 11.23 6.73 16.65 12.22 18.16 5.06 1.38 10.89-.24 15.53-3.57 4.55-3.26 7.81-8.06 7.85-13.09.05-5.72-4.14-12.21-15.36-17.94a6.219 6.219 0 0 1-2.7-8.36 6.21 6.21 0 0 1 8.36-2.71c12.44 6.36 18.89 14.18 21.16 22.04 4.11-1.28 8.1-4.37 11.09-8.71 3.69-5.35 5.8-12.54 4.79-20.6-.56-2.57.56-5.32 2.96-6.72 4.85-2.83 8.45-6.01 10.9-9.33 2.79-3.78 4.14-7.8 4.26-11.73.11-3.97-1.03-7.99-3.21-11.72-1.99-3.4-4.83-6.55-8.35-9.19a6.243 6.243 0 0 1-2.44-7.18c1.2-3.53 1.52-6.97 1.17-10.18-.56-5.07-2.8-9.71-5.96-13.44-3.17-3.75-7.22-6.56-11.38-7.97-2.18-.74-4.36-1.07-6.38-.93-1.07 3.69-3.04 7.41-6.08 11.03-2.21 2.62-6.13 2.96-8.75.75a6.21 6.21 0 0 1-.76-8.74c4.85-5.75 4.88-11.8 2.34-16.54-1.76-3.25-4.68-6-8.11-7.73-3.36-1.69-7.15-2.39-10.74-1.65-5.27 1.1-10.36 5.46-13.58 14.56zm31.76 42.21a6.227 6.227 0 0 1-1.37-8.68 6.227 6.227 0 0 1 8.68-1.37c1.29.94 2.48 1.91 3.57 2.89 8.3 7.46 12.83 17.32 13.65 27.53.83 10.09-1.99 20.54-8.36 29.29-.87 1.21-1.89 2.46-3.06 3.75-2.29 2.54-6.23 2.74-8.77.43a6.203 6.203 0 0 1-.44-8.77c.71-.8 1.45-1.71 2.18-2.72 4.58-6.3 6.61-13.79 6.03-21.01-.58-7.12-3.75-14.01-9.54-19.24-.82-.76-1.69-1.46-2.57-2.1zm-44.25-35.71-.04-.05-.04-.06-.11-.18-.01-.02-.25-.47-.03-.05-.01-.01-.02-.06-.09-.21-.03-.05-.03-.06v-.02l-.02-.05-.08-.2-.01-.03-.01-.04-.03-.11-.01-.03-.02-.06-.01-.05-.01-.03-.02-.06-.01-.06-.01-.01-.02-.08-.01-.05c-3-12.13-8.83-17.69-14.88-18.95-3.97-.83-8.19.12-11.78 2.21-3.64 2.12-6.57 5.37-7.95 9.12-1.85 5.01-.76 11.17 5.49 16.95 2.51 2.33 2.66 6.27.34 8.78-2.33 2.52-6.27 2.67-8.78.34-4.93-4.56-7.92-9.41-9.35-14.23-3.91.9-7.79 3.49-10.89 7.28-3.62 4.39-6.1 10.34-6.35 17.14-.07 1.8.03 3.7.3 5.67.32 2.36-.74 4.81-2.89 6.14-4.69 2.89-8.18 6.07-10.61 9.38-2.96 4.04-4.32 8.27-4.37 12.37-.05 4.12 1.23 8.24 3.53 11.99 1.94 3.15 4.6 6.01 7.79 8.38a6.238 6.238 0 0 1 2.36 7.13c-1.28 3.78-1.55 7.46-1.07 10.88.69 4.92 2.96 9.41 6.08 13.01 3.13 3.62 7.09 6.33 11.15 7.7 1.72.59 3.43.92 5.08.97 2.44-8.07 9.14-16.15 21.91-22.68 3.06-1.56 6.81-.35 8.37 2.71 1.56 3.05.35 6.8-2.71 8.36-11.81 6.03-16.25 12.99-16.24 19.05 0 4.71 2.69 9.15 6.62 12.2 3.99 3.11 9.15 4.71 13.97 3.71 6.06-1.26 11.9-6.84 14.89-19.01.19-.75.5-1.44.92-2.04V187.48zm-46.25 29.84a6.223 6.223 0 0 1 8.8.07c2.41 2.45 2.37 6.39-.07 8.8-5.5 5.4-8.37 12.39-8.67 19.54-.31 7.35 2.09 14.91 7.11 21.14 2.15 2.67 1.73 6.59-.95 8.75a6.234 6.234 0 0 1-8.75-.95c-6.95-8.63-10.27-19.15-9.84-29.44.42-10.21 4.52-20.2 12.37-27.91zm-48.62 140.57c-5.61-7.17-11.33-14.49-16.86-22.89-5.62-8.56-10.91-18.04-15.41-29.18-4.41-11.02-7.71-22.14-9.71-33.37-2-11.28-2.73-22.74-2-34.38v-.03c.74-11.56 2.92-23.27 6.7-35.1 3.75-11.78 9.04-23.58 16-35.36l.57-.87c8.9-13.35 19.3-24.43 30.72-33.36a134.777 134.777 0 0 1 39.26-21.32l.76-.22c10.92-3.72 22.12-6.03 33.32-7.01 11.85-1.04 23.83-.63 35.63 1.11 11.55 1.7 22.9 4.69 33.74 8.84 10.81 4.14 21.2 9.5 30.87 15.95 12.53 8.37 23.81 18.62 33.2 30.51 8.97 11.37 16.2 24.24 21.09 38.39h.04c2.64 7.68 4.79 15.87 6.22 24.53a140.55 140.55 0 0 1 1.86 26.85c-.25 9.65-1.53 19.62-4.02 29.81-2.34 9.51-5.76 19.27-10.43 29.2-9.56 20.39-25.92 40.64-41.95 60.47-8.32 10.31-16.57 20.52-23.56 30.4-2.31 3.29-6.35 4.65-10.04 3.72-21.99-1.69-95.08 8.83-122.11 11.34a9.436 9.436 0 0 1-9.95-6.89c-2.73-9.87-6.34-19.75-10.59-28.79-3.96-8.43-8.48-16.12-13.35-22.35zm-1.09-33.26c5.06 7.68 10.56 14.73 15.97 21.64 5.75 7.35 11.02 16.29 15.57 25.97 3.62 7.7 6.8 15.89 9.44 24.16l113.67-10.57c6.55-8.95 13.89-18.04 21.31-27.21 15.37-19.02 31.05-38.43 39.58-56.62 4.11-8.74 7.12-17.32 9.16-25.66 2.19-8.89 3.29-17.51 3.51-25.8.21-8.08-.39-15.88-1.63-23.38-1.23-7.38-3.12-14.54-5.49-21.42l.04-.01c-4.18-12.08-10.37-23.09-18.06-32.83-8.11-10.27-17.94-19.17-28.9-26.51-8.37-5.58-17.49-10.27-27.1-13.95-9.58-3.67-19.59-6.31-29.74-7.8-10.32-1.52-20.83-1.87-31.26-.96-9.86.86-19.55 2.83-28.82 5.98l-.74.28c-11.97 4.12-23.39 10.17-33.79 18.3-9.79 7.65-18.75 17.2-26.49 28.74l-.13.23c-6.3 10.66-11.03 21.14-14.3 31.43-3.27 10.24-5.16 20.44-5.81 30.58-.63 10.06.02 20.05 1.78 29.97 1.78 9.98 4.69 19.85 8.6 29.6 4 9.91 8.68 18.3 13.63 25.84zm157.09 79.94h.04-.04zm.05-.01c.03 0 .08-.01 0 0zM257.49 15.44c.38-4.64 2.57-8.66 5.84-11.44 3.19-2.73 7.46-4.25 11.98-3.96V0c.39.02.77.08 1.15.15 4.2.57 7.89 2.7 10.46 5.7 2.74 3.19 4.25 7.42 3.96 11.98h.05c-.02.3-.04.6-.09.85l-2.86 35.64h.04c-.01.38-.08.76-.14 1.15-.58 4.24-2.7 7.89-5.71 10.46a16.827 16.827 0 0 1-11.98 3.96v.04c-.38-.02-.76-.08-1.14-.14-4.25-.58-7.9-2.7-10.47-5.71a16.827 16.827 0 0 1-3.96-11.98h-.04c.02-.3.03-.6.09-.85l2.82-35.81zM70 67.85a16.903 16.903 0 0 1-4.69-11.93 16.7 16.7 0 0 1 5.09-11.74 16.86 16.86 0 0 1 11.93-4.69c4.27.06 8.54 1.79 11.74 5.09l25.41 26.41c3.19 3.34 4.75 7.66 4.69 11.93-.07 4.32-1.8 8.54-5.09 11.74a16.91 16.91 0 0 1-11.94 4.69c-4.31-.07-8.54-1.8-11.73-5.1L70 67.85zm-53.88 181.6c-4.52-.16-8.56-2.14-11.47-5.16A16.888 16.888 0 0 1 0 232.31c.08-4.61 2.07-8.78 5.18-11.73 3.11-2.95 7.31-4.73 11.97-4.6l36.6.77c4.62.08 8.78 2.06 11.73 5.17 2.96 3.12 4.73 7.32 4.61 11.97l-.02.26h.04l-.07.6c-.32 4.3-2.24 8.08-5.13 10.88-3.11 2.94-7.31 4.68-11.97 4.6l-.25-.02-.01.05-.38-.02-36.18-.79zm463.48-26.53.55-.01c4.37-.02 8.34 1.61 11.35 4.34 3.18 2.87 5.22 7 5.48 11.59l-.01.17c.05 0 .02.47.02.55.01 4.37-1.62 8.34-4.35 11.36-2.87 3.17-7 5.21-11.59 5.47l-36.57 1.84c-4.63.22-8.9-1.47-12.04-4.33-3.18-2.87-5.26-7-5.48-11.59a16.74 16.74 0 0 1 4.34-12.04c2.87-3.17 7-5.26 11.59-5.47 12.22-.66 24.49-1.4 36.71-1.88zM415.57 73.46c2.81-3.69 6.78-5.87 11-6.5 4.23-.57 8.66.44 12.4 3.21l.04.04a16.55 16.55 0 0 1 6.5 11.01c.58 4.22-.44 8.65-3.21 12.39l-22 29.29c-2.77 3.69-6.78 5.91-11.05 6.53-4.22.58-8.65-.43-12.4-3.2-3.69-2.77-5.91-6.83-6.53-11.05-.58-4.22.43-8.66 3.2-12.4l22.05-29.32zM313.62 422.3l-.26 6.79.03 2.36c.13 4.45-.06 8.94-.57 13.36l-2.57 9.67-126.67 11.8-1.91-5.14-3.82-20.36.22-5.82 135.55-12.66z" fill-rule="nonzero"></path></svg></span><span class="gb-headline-text">Profitable Blogging</span></h2>
<!-- /wp:generateblocks/headline -->

<!-- wp:generateblocks/headline {"uniqueId":"224cad2b","element":"h1","blockVersion":2,"fontWeight":"900","fontSize":35,"fontSizeMobile":29,"lineHeight":1.5,"letterSpacing":0.02,"backgroundColor":"","textColor":"var(\u002d\u002dbase-3)","linkColor":"","linkColorHover":"","borderColor":"","highlightTextColor":"","iconColor":""} -->
<h1 class="gb-headline gb-headline-224cad2b gb-headline-text">Learn To Create Profitable Affiliate Marketing Website Using Free SEO Traffic</h1>
<!-- /wp:generateblocks/headline -->

<!-- wp:generateblocks/button {"uniqueId":"ab65fd39","hasUrl":true,"blockVersion":3,"display":"inline-flex","alignItems":"center","fontWeight":"700","marginTop":"25","paddingTop":"10","paddingRight":"20","paddingBottom":"10","paddingLeft":"20","backgroundColor":"var(\u002d\u002daccent-2)","backgroundColorHover":"rgba(242, 134, 94, 0.93)","textColor":"#ffffff","textColorHover":"#ffffff","hasIcon":true,"iconLocation":"right","iconPaddingRight":"","iconPaddingLeft":"0.5"} -->
<a class="gb-button gb-button-ab65fd39" href="#"><span class="gb-button-text">View Tutorials</span><span class="gb-icon"><svg xmlns="http://www.w3.org/2000/svg" shape-rendering="geometricPrecision" text-rendering="geometricPrecision" image-rendering="optimizeQuality" fill-rule="evenodd" clip-rule="evenodd" viewBox="0 0 512 243.58"><path fill-rule="nonzero" d="M373.57 0 512 120.75 371.53 243.58l-20.92-23.91 94.93-83L0 137.09v-31.75l445.55-.41-92.89-81.02z"></path></svg></span></a>
<!-- /wp:generateblocks/button -->
<!-- /wp:generateblocks/container -->

<!-- wp:generateblocks/container {"uniqueId":"b48766a4","isGrid":true,"gridId":"a87e1598","isDynamic":true,"blockVersion":3,"display":"flex","flexDirection":"row","alignItems":"flex-end","justifyContent":"center","sizing":{"width":"50%","widthMobile":"100%","widthTablet":"60%"}} -->
<!-- wp:generateblocks/image {"uniqueId":"c06776cc","sizeSlug":"large","alignment":"center"} -->
<figure class="gb-block-image gb-block-image-c06776cc"><img class="gb-image gb-image-c06776cc" src="https://dummyimage.com/818x651/194669/ffffff" alt=""/></figure>
<!-- /wp:generateblocks/image -->
<!-- /wp:generateblocks/container -->
<!-- /wp:generateblocks/grid -->
<!-- /wp:generateblocks/container -->
<!-- /wp:generateblocks/container -->
2. Newsletter Block

<!-- wp:generateblocks/container {"uniqueId":"a737532f","backgroundColor":"var(\u002d\u002dbase-2)","isDynamic":true,"blockVersion":3} -->
<!-- wp:generateblocks/container {"uniqueId":"10195f29","isDynamic":true,"blockVersion":3,"useGlobalMaxWidth":true,"alignment":"left","marginRight":"auto","marginLeft":"auto","paddingTop":"20","paddingRight":"20","paddingBottom":"20","paddingLeft":"20","paddingSyncUnits":true} -->
<!-- wp:generateblocks/grid {"uniqueId":"45874306","columns":2,"horizontalGap":20,"verticalAlignment":"center","horizontalAlignment":"flex-start","isDynamic":true,"blockVersion":3} -->
<!-- wp:generateblocks/container {"uniqueId":"7c8b2364","isGrid":true,"gridId":"45874306","isDynamic":true,"blockVersion":3,"sizing":{"width":"50%","widthMobile":"100%"}} -->
<!-- wp:generateblocks/headline {"uniqueId":"95b2185c","blockVersion":2,"display":"flex","alignItems":"center","fontWeight":"700","alignment":"center","fontSize":29,"fontSizeMobile":25,"marginBottom":"0","backgroundColor":"","textColor":"var(\u002d\u002daccent)","linkColor":"","linkColorHover":"","borderColor":"","highlightTextColor":"","hasIcon":true,"iconColor":"","iconSize":2.5} -->
<h2 class="gb-headline gb-headline-95b2185c"><span class="gb-icon"><svg viewBox="0 0 122.88 49.21" xmlns="http://www.w3.org/2000/svg" data-name="Layer 1" id="Layer_1"><title>sent-mail</title><path d="M54.58,0,86.24,27.52,120.63,0ZM35.37,37.6a2.9,2.9,0,0,1,0,5.79H23a2.9,2.9,0,0,1,0-5.79Zm2.89-15.89a2.9,2.9,0,0,1,0,5.79H12.89a2.9,2.9,0,0,1,0-5.79Zm59.92.45L119.54,46.5l3.34-44.11L98.18,22.16Zm-20.94,2.2L50.58,49.21h66.65L95.42,24.37,87.11,31h0a1.72,1.72,0,0,1-2.18,0l-7.69-6.69Zm-28.35,22,25.87-24.1L52.2,2.61l-3.31,43.7ZM38.26,5.82a2.89,2.89,0,1,1,0,5.78H2.89a2.89,2.89,0,0,1,0-5.78Z"></path></svg></span><span class="gb-headline-text">Join the Newsletter</span></h2>
<!-- /wp:generateblocks/headline -->

<!-- wp:paragraph -->
<p>We'll send you the most useful and highly used WordPress themes and plugins. We do not send spam.</p>
<!-- /wp:paragraph -->
<!-- /wp:generateblocks/container -->

<!-- wp:generateblocks/container {"uniqueId":"ccdc26dc","isGrid":true,"gridId":"45874306","isDynamic":true,"blockVersion":3,"sizing":{"width":"50%","widthMobile":"100%"},"alignment":"center"} -->
<!-- wp:shortcode -->
[mc4wp_form id=342]
<!-- /wp:shortcode -->
<!-- /wp:generateblocks/container -->
<!-- /wp:generateblocks/grid -->
<!-- /wp:generateblocks/container -->
<!-- /wp:generateblocks/container -->
3. Featured Posts Block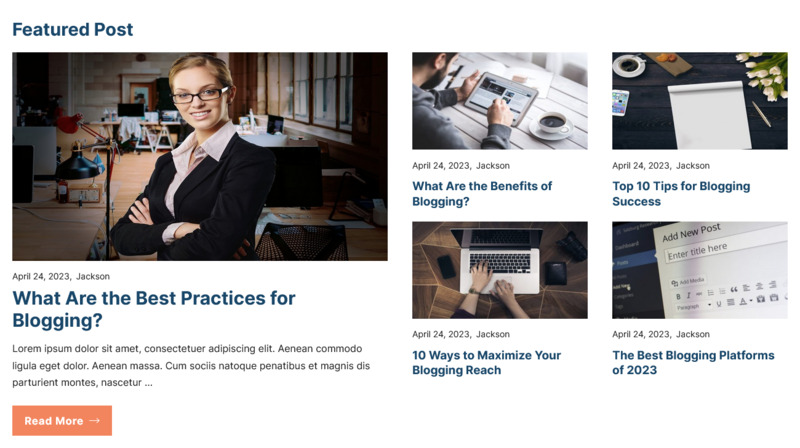 <!-- wp:generateblocks/container {"uniqueId":"87a83a81","isDynamic":true,"blockVersion":3,"paddingBottom":"20"} -->
<!-- wp:generateblocks/container {"uniqueId":"92463035","isDynamic":true,"blockVersion":3,"useGlobalMaxWidth":true,"marginRight":"auto","marginLeft":"auto"} -->
<!-- wp:generateblocks/headline {"uniqueId":"43d49486","blockVersion":2,"fontWeight":"700","fontSize":29,"fontSizeMobile":29,"marginBottom":"0","paddingTop":"30","paddingRight":"20","paddingBottom":"0","paddingLeft":"20","backgroundColor":"","textColor":"var(\u002d\u002daccent)","linkColor":"","linkColorHover":"","borderColor":"","highlightTextColor":"","iconColor":""} -->
<h2 class="gb-headline gb-headline-43d49486 gb-headline-text">Featured Post</h2>
<!-- /wp:generateblocks/headline -->

<!-- wp:generateblocks/grid {"uniqueId":"24d15685","columns":2,"isDynamic":true,"blockVersion":3} -->
<!-- wp:generateblocks/container {"uniqueId":"0c075a0f","isGrid":true,"gridId":"24d15685","isDynamic":true,"blockVersion":3,"sizing":{"width":"50%","widthMobile":"100%","widthTablet":"40%"}} -->
<!-- wp:generateblocks/query-loop {"uniqueId":"21bacda4","query":{"post_type":"post","per_page":"1"}} -->
<!-- wp:generateblocks/grid {"uniqueId":"4214c2e4","columns":1,"horizontalGap":20,"verticalGap":20,"isDynamic":true,"blockVersion":3,"isQueryLoop":true,"lock":{"remove":true}} -->
<!-- wp:generateblocks/container {"uniqueId":"5885920d","isGrid":true,"isQueryLoopItem":true,"gridId":"4214c2e4","backgroundColor":"var(\u002d\u002dbase-3)","isDynamic":true,"blockVersion":3,"sizing":{"width":"100%","widthMobile":"100%"},"paddingTop":"20","paddingRight":"20","paddingBottom":"20","paddingLeft":"20","lock":{"remove":true,"move":true}} -->
<!-- wp:generateblocks/image {"uniqueId":"8b678e08","sizeSlug":"full","marginBottom":"10","useDynamicData":true,"dynamicContentType":"featured-image","dynamicLinkType":"single-post"} /-->

<!-- wp:generateblocks/headline {"uniqueId":"9a0075ea","element":"p","blockVersion":2,"display":"inline-flex","fontSize":14,"marginBottom":"5","backgroundColor":"","textColor":"","linkColor":"","linkColorHover":"","borderColor":"","highlightTextColor":"","iconColor":"","useDynamicData":true,"dynamicContentType":"post-date","className":"post-date-meta"} -->
<p class="gb-headline gb-headline-9a0075ea gb-headline-text post-date-meta"></p>
<!-- /wp:generateblocks/headline -->

<!-- wp:generateblocks/headline {"uniqueId":"f1f018df","element":"p","blockVersion":2,"display":"inline-flex","flexDirection":"row","fontSize":14,"marginBottom":"5","marginLeft":"2","backgroundColor":"","textColor":"","linkColor":"","linkColorHover":"","borderColor":"","highlightTextColor":"","iconColor":"","useDynamicData":true,"dynamicContentType":"author-name"} -->
<p class="gb-headline gb-headline-f1f018df gb-headline-text"></p>
<!-- /wp:generateblocks/headline -->

<!-- wp:generateblocks/headline {"uniqueId":"e26ac3e5","element":"h3","blockVersion":2,"fontWeight":"700","fontSize":30,"fontSizeMobile":25,"marginBottom":"5","backgroundColor":"","textColor":"","linkColor":"","linkColorHover":"","borderColor":"","highlightTextColor":"","iconColor":"","useDynamicData":true,"dynamicContentType":"post-title","dynamicLinkType":"single-post"} -->
<h3 class="gb-headline gb-headline-e26ac3e5 gb-headline-text"></h3>
<!-- /wp:generateblocks/headline -->

<!-- wp:generateblocks/headline {"uniqueId":"8c039fb6","element":"p","blockVersion":2,"fontWeight":"normal","fontSize":16,"marginTop":"15","marginBottom":"5","backgroundColor":"","textColor":"","linkColor":"","linkColorHover":"","borderColor":"","highlightTextColor":"","iconColor":"","useDynamicData":true,"dynamicContentType":"post-excerpt","useDefaultMoreLink":false,"excerptLength":25} -->
<p class="gb-headline gb-headline-8c039fb6 gb-headline-text"></p>
<!-- /wp:generateblocks/headline -->

<!-- wp:generateblocks/button {"uniqueId":"d861238c","hasUrl":false,"blockVersion":3,"display":"inline-flex","alignItems":"center","fontWeight":"700","letterSpacing":0.05,"marginTop":"20","paddingTop":"10","paddingRight":"20","paddingBottom":"10","paddingLeft":"20","backgroundColor":"var(\u002d\u002daccent-2)","backgroundColorHover":"var(\u002d\u002daccent)","textColor":"var(\u002d\u002dbase-3)","textColorHover":"#ffffff","hasIcon":true,"iconLocation":"right","iconPaddingRight":"","iconPaddingLeft":"0.5","useDynamicData":true,"dynamicLinkType":"single-post"} -->
<span class="gb-button gb-button-d861238c"><span class="gb-button-text">Read More</span><span class="gb-icon"><svg xmlns="http://www.w3.org/2000/svg" shape-rendering="geometricPrecision" text-rendering="geometricPrecision" image-rendering="optimizeQuality" fill-rule="evenodd" clip-rule="evenodd" viewBox="0 0 512 243.58"><path fill-rule="nonzero" d="M373.57 0 512 120.75 371.53 243.58l-20.92-23.91 94.93-83L0 137.09v-31.75l445.55-.41-92.89-81.02z"></path></svg></span></span>
<!-- /wp:generateblocks/button -->
<!-- /wp:generateblocks/container -->
<!-- /wp:generateblocks/grid -->
<!-- /wp:generateblocks/query-loop -->
<!-- /wp:generateblocks/container -->

<!-- wp:generateblocks/container {"uniqueId":"2ae9025b","isGrid":true,"gridId":"24d15685","isDynamic":true,"blockVersion":3,"sizing":{"width":"50%","widthMobile":"100%","widthTablet":"60%"}} -->
<!-- wp:generateblocks/query-loop {"uniqueId":"6024c55b","query":{"post_type":"post","per_page":"4","offset":"1"}} -->
<!-- wp:generateblocks/grid {"uniqueId":"452311bc","columns":1,"isDynamic":true,"blockVersion":3,"isQueryLoop":true,"lock":{"remove":true}} -->
<!-- wp:generateblocks/container {"uniqueId":"4c77b872","isGrid":true,"isQueryLoopItem":true,"gridId":"452311bc","backgroundColor":"var(\u002d\u002dbase-3)","isDynamic":true,"blockVersion":3,"sizing":{"width":"50%","widthMobile":"100%","widthTablet":"50%"},"paddingTop":"20","paddingRight":"20","paddingBottom":"0","paddingLeft":"20","lock":{"remove":true,"move":true}} -->
<!-- wp:generateblocks/image {"uniqueId":"00e437c9","sizeSlug":"medium","marginBottom":"10","useDynamicData":true,"dynamicContentType":"featured-image","dynamicLinkType":"single-post"} /-->

<!-- wp:generateblocks/headline {"uniqueId":"2475a208","element":"p","blockVersion":2,"display":"inline-flex","flexDirection":"row","fontSize":14,"marginBottom":"5","backgroundColor":"","textColor":"","linkColor":"","linkColorHover":"","borderColor":"","highlightTextColor":"","iconColor":"","useDynamicData":true,"dynamicContentType":"post-date","className":"post-date-meta"} -->
<p class="gb-headline gb-headline-2475a208 gb-headline-text post-date-meta"></p>
<!-- /wp:generateblocks/headline -->

<!-- wp:generateblocks/headline {"uniqueId":"ec44bf76","element":"p","blockVersion":2,"display":"inline-flex","flexDirection":"row","fontSize":14,"marginBottom":"5","marginLeft":"2","backgroundColor":"","textColor":"","linkColor":"","linkColorHover":"","borderColor":"","highlightTextColor":"","iconColor":"","useDynamicData":true,"dynamicContentType":"author-name"} -->
<p class="gb-headline gb-headline-ec44bf76 gb-headline-text"></p>
<!-- /wp:generateblocks/headline -->

<!-- wp:generateblocks/headline {"uniqueId":"66359331","element":"h3","blockVersion":2,"fontWeight":"700","fontSize":19,"fontSizeMobile":25,"lineHeight":1.3,"marginTop":"5","marginBottom":"0","backgroundColor":"","textColor":"","linkColor":"","linkColorHover":"","borderColor":"","highlightTextColor":"","iconColor":"","useDynamicData":true,"dynamicContentType":"post-title","dynamicLinkType":"single-post"} -->
<h3 class="gb-headline gb-headline-66359331 gb-headline-text"></h3>
<!-- /wp:generateblocks/headline -->
<!-- /wp:generateblocks/container -->
<!-- /wp:generateblocks/grid -->
<!-- /wp:generateblocks/query-loop -->
<!-- /wp:generateblocks/container -->
<!-- /wp:generateblocks/grid -->
<!-- /wp:generateblocks/container -->
<!-- /wp:generateblocks/container -->
4. Editors Choice Block

<!-- wp:generateblocks/container {"uniqueId":"b4658b21","backgroundColor":"var(\u002d\u002dhighlight)","isDynamic":true,"blockVersion":3,"paddingTop":"30","paddingBottom":"30"} -->
<!-- wp:generateblocks/container {"uniqueId":"3e7c3978","isDynamic":true,"blockVersion":3,"useGlobalMaxWidth":true,"marginRight":"auto","marginLeft":"auto"} -->
<!-- wp:generateblocks/grid {"uniqueId":"90c34ebe","columns":2,"verticalAlignment":"center","isDynamic":true,"blockVersion":3} -->
<!-- wp:generateblocks/container {"uniqueId":"d7012fbf","isGrid":true,"gridId":"90c34ebe","isDynamic":true,"blockVersion":3,"sizing":{"width":"66.66%","widthMobile":"100%"}} -->
<!-- wp:generateblocks/headline {"uniqueId":"12ef64ba","blockVersion":2,"fontWeight":"700","fontSize":29,"paddingLeft":"20","backgroundColor":"","textColor":"var(\u002d\u002daccent)","linkColor":"","linkColorHover":"","borderColor":"","highlightTextColor":"","iconColor":""} -->
<h2 class="gb-headline gb-headline-12ef64ba gb-headline-text">Editors Choice</h2>
<!-- /wp:generateblocks/headline -->
<!-- /wp:generateblocks/container -->

<!-- wp:generateblocks/container {"uniqueId":"dfb1891b","isGrid":true,"gridId":"90c34ebe","isDynamic":true,"blockVersion":3,"sizing":{"width":"33.33%","widthMobile":"100%"},"alignment":"right","alignmentMobile":"center","paddingRight":"20"} -->
<!-- wp:generateblocks/button {"uniqueId":"16e0e0ae","hasUrl":true,"blockVersion":3,"display":"inline-flex","alignItems":"center","fontWeight":"500","letterSpacing":0.05,"paddingTop":"5","paddingRight":"20","paddingBottom":"5","paddingLeft":"20","borderRadiusTopRight":"5","borderRadiusBottomRight":"5","borderRadiusBottomLeft":"5","borderRadiusTopLeft":"5","backgroundColor":"var(\u002d\u002daccent-2)","backgroundColorHover":"var(\u002d\u002daccent)","textColor":"var(\u002d\u002dbase-3)","textColorHover":"var(\u002d\u002dbase-3)","hasIcon":true,"iconLocation":"right","iconPaddingRight":"","iconPaddingLeft":"0.5"} -->
<a class="gb-button gb-button-16e0e0ae" href="#"><span class="gb-button-text">View All</span><span class="gb-icon"><svg viewBox="0 0 512 243.58" clip-rule="evenodd" fill-rule="evenodd" image-rendering="optimizeQuality" text-rendering="geometricPrecision" shape-rendering="geometricPrecision" xmlns="http://www.w3.org/2000/svg"><path d="M373.57 0 512 120.75 371.53 243.58l-20.92-23.91 94.93-83L0 137.09v-31.75l445.55-.41-92.89-81.02z" fill-rule="nonzero"></path></svg></span></a>
<!-- /wp:generateblocks/button -->
<!-- /wp:generateblocks/container -->
<!-- /wp:generateblocks/grid -->

<!-- wp:generateblocks/query-loop {"uniqueId":"45d48f9e","query":{"post_type":"post","per_page":"3"}} -->
<!-- wp:generateblocks/grid {"uniqueId":"e52eecf5","columns":1,"isDynamic":true,"blockVersion":3,"isQueryLoop":true,"lock":{"remove":true}} -->
<!-- wp:generateblocks/container {"uniqueId":"80d4e922","isGrid":true,"isQueryLoopItem":true,"gridId":"e52eecf5","backgroundColor":"var(\u002d\u002dhighlight)","isDynamic":true,"blockVersion":3,"sizing":{"width":"33.33%","widthMobile":"100%"},"paddingTop":"20","paddingRight":"20","paddingBottom":"20","paddingLeft":"20","lock":{"remove":true,"move":true}} -->
<!-- wp:generateblocks/image {"uniqueId":"991a2765","sizeSlug":"medium","marginBottom":"30","useDynamicData":true,"dynamicContentType":"featured-image","dynamicLinkType":"single-post"} /-->

<!-- wp:generateblocks/headline {"uniqueId":"cf8c4119","element":"h3","blockVersion":2,"fontWeight":"700","fontSize":19,"fontSizeMobile":25,"lineHeight":1.3,"marginBottom":"5","backgroundColor":"","textColor":"","linkColor":"","linkColorHover":"","borderColor":"","highlightTextColor":"","iconColor":"","useDynamicData":true,"dynamicContentType":"post-title","dynamicLinkType":"single-post"} -->
<h3 class="gb-headline gb-headline-cf8c4119 gb-headline-text"></h3>
<!-- /wp:generateblocks/headline -->

<!-- wp:generateblocks/headline {"uniqueId":"ff9c5e3e","element":"p","blockVersion":2,"display":"inline-flex","fontSize":14,"marginBottom":"0","backgroundColor":"","textColor":"","linkColor":"","linkColorHover":"","borderColor":"","useDynamicData":true,"dynamicContentType":"post-date","className":"post-date-meta"} -->
<p class="gb-headline gb-headline-ff9c5e3e gb-headline-text post-date-meta"></p>
<!-- /wp:generateblocks/headline -->

<!-- wp:generateblocks/headline {"uniqueId":"45e49065","element":"p","blockVersion":2,"display":"inline-flex","flexDirection":"row","fontSize":14,"marginBottom":"5","marginLeft":"2","backgroundColor":"","textColor":"","linkColor":"","linkColorHover":"","borderColor":"","highlightTextColor":"","iconColor":"","useDynamicData":true,"dynamicContentType":"author-name"} -->
<p class="gb-headline gb-headline-45e49065 gb-headline-text"></p>
<!-- /wp:generateblocks/headline -->
<!-- /wp:generateblocks/container -->
<!-- /wp:generateblocks/grid -->
<!-- /wp:generateblocks/query-loop -->
<!-- /wp:generateblocks/container -->
<!-- /wp:generateblocks/container -->
5. Latest Post Block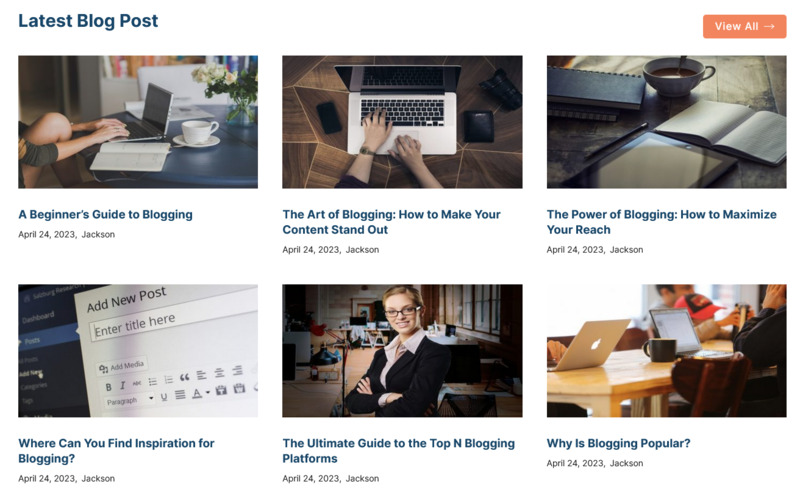 <!-- wp:generateblocks/container {"uniqueId":"4417cb4d","backgroundColor":"var(\u002d\u002dbase-3)","isDynamic":true,"blockVersion":3,"paddingTop":"30","paddingBottom":"30"} -->
<!-- wp:generateblocks/container {"uniqueId":"28aa66fd","isDynamic":true,"blockVersion":3,"useGlobalMaxWidth":true,"marginRight":"auto","marginLeft":"auto"} -->
<!-- wp:generateblocks/grid {"uniqueId":"edf73816","columns":2,"verticalAlignment":"center","isDynamic":true,"blockVersion":3} -->
<!-- wp:generateblocks/container {"uniqueId":"9a73ef0e","isGrid":true,"gridId":"edf73816","isDynamic":true,"blockVersion":3,"sizing":{"width":"66.66%","widthMobile":"100%"}} -->
<!-- wp:generateblocks/headline {"uniqueId":"2dbb3401","blockVersion":2,"fontWeight":"700","fontSize":29,"paddingLeft":"20","backgroundColor":"","textColor":"var(\u002d\u002daccent)","linkColor":"","linkColorHover":"","borderColor":"","highlightTextColor":"","iconColor":""} -->
<h2 class="gb-headline gb-headline-2dbb3401 gb-headline-text">Latest Blog Post</h2>
<!-- /wp:generateblocks/headline -->
<!-- /wp:generateblocks/container -->

<!-- wp:generateblocks/container {"uniqueId":"677d81d9","isGrid":true,"gridId":"edf73816","isDynamic":true,"blockVersion":3,"sizing":{"width":"33.33%","widthMobile":"100%"},"alignment":"right","alignmentMobile":"center","paddingRight":"20"} -->
<!-- wp:generateblocks/button {"uniqueId":"6186c7cf","hasUrl":true,"blockVersion":3,"display":"inline-flex","alignItems":"center","fontWeight":"500","letterSpacing":0.05,"paddingTop":"5","paddingRight":"20","paddingBottom":"5","paddingLeft":"20","borderRadiusTopRight":"5","borderRadiusBottomRight":"5","borderRadiusBottomLeft":"5","borderRadiusTopLeft":"5","backgroundColor":"var(\u002d\u002daccent-2)","backgroundColorHover":"var(\u002d\u002daccent)","textColor":"var(\u002d\u002dbase-3)","textColorHover":"var(\u002d\u002dbase-3)","hasIcon":true,"iconLocation":"right","iconPaddingRight":"","iconPaddingLeft":"0.5"} -->
<a class="gb-button gb-button-6186c7cf" href="#"><span class="gb-button-text">View All</span><span class="gb-icon"><svg viewBox="0 0 512 243.58" clip-rule="evenodd" fill-rule="evenodd" image-rendering="optimizeQuality" text-rendering="geometricPrecision" shape-rendering="geometricPrecision" xmlns="http://www.w3.org/2000/svg"><path d="M373.57 0 512 120.75 371.53 243.58l-20.92-23.91 94.93-83L0 137.09v-31.75l445.55-.41-92.89-81.02z" fill-rule="nonzero"></path></svg></span></a>
<!-- /wp:generateblocks/button -->
<!-- /wp:generateblocks/container -->
<!-- /wp:generateblocks/grid -->

<!-- wp:generateblocks/query-loop {"uniqueId":"495a07b0","query":{"post_type":"post","per_page":"6"}} -->
<!-- wp:generateblocks/grid {"uniqueId":"2dadb6e6","columns":1,"isDynamic":true,"blockVersion":3,"isQueryLoop":true,"lock":{"remove":true}} -->
<!-- wp:generateblocks/container {"uniqueId":"25f58f7d","isGrid":true,"isQueryLoopItem":true,"gridId":"2dadb6e6","backgroundColor":"var(\u002d\u002dbase-3)","isDynamic":true,"blockVersion":3,"sizing":{"width":"33.33%","widthMobile":"100%"},"paddingTop":"20","paddingRight":"20","paddingBottom":"20","paddingLeft":"20","lock":{"remove":true,"move":true}} -->
<!-- wp:generateblocks/image {"uniqueId":"a3663a71","sizeSlug":"medium","marginBottom":"30","useDynamicData":true,"dynamicContentType":"featured-image","dynamicLinkType":"single-post"} /-->

<!-- wp:generateblocks/headline {"uniqueId":"8f4cc954","element":"h3","blockVersion":2,"fontWeight":"700","fontSize":19,"fontSizeMobile":25,"lineHeight":1.3,"marginBottom":"5","backgroundColor":"","textColor":"","linkColor":"","linkColorHover":"","borderColor":"","highlightTextColor":"","iconColor":"","useDynamicData":true,"dynamicContentType":"post-title","dynamicLinkType":"single-post"} -->
<h3 class="gb-headline gb-headline-8f4cc954 gb-headline-text"></h3>
<!-- /wp:generateblocks/headline -->

<!-- wp:generateblocks/headline {"uniqueId":"8ced6c40","element":"p","blockVersion":2,"display":"inline-flex","fontSize":14,"marginBottom":"0","backgroundColor":"","textColor":"","linkColor":"","linkColorHover":"","borderColor":"","useDynamicData":true,"dynamicContentType":"post-date","className":"post-date-meta"} -->
<p class="gb-headline gb-headline-8ced6c40 gb-headline-text post-date-meta"></p>
<!-- /wp:generateblocks/headline -->

<!-- wp:generateblocks/headline {"uniqueId":"8eb487b4","element":"p","blockVersion":2,"display":"inline-flex","flexDirection":"row","fontSize":14,"marginBottom":"5","marginLeft":"2","backgroundColor":"","textColor":"","linkColor":"","linkColorHover":"","borderColor":"","highlightTextColor":"","iconColor":"","useDynamicData":true,"dynamicContentType":"author-name"} -->
<p class="gb-headline gb-headline-8eb487b4 gb-headline-text"></p>
<!-- /wp:generateblocks/headline -->
<!-- /wp:generateblocks/container -->
<!-- /wp:generateblocks/grid -->
<!-- /wp:generateblocks/query-loop -->
<!-- /wp:generateblocks/container -->
<!-- /wp:generateblocks/container -->