Every WordPress website needs Social Media sharing buttons. There are many social sharing plugins in WordPress repository. However, most of them are packed with features, which users rarely use. As a result these plugins brings down the website's speed considerably.
Recently I found a truly lightweight WordPress plugin for integrating Social Media buttons with WordPress websites.
The plugin is Shared Counts – Social Media Share Buttons, developed by Bill Erickson & Jared Atchison. It's a free plugin and you can download it from WordPress repository.
Buttons Included
The plugin comes with following social share buttons:-
Facebook Share Button
Pinterest Pin Button
Yummly Button
Twitter Tweet Button (using the third-party Twitcount.com API)
Email Sharing (with reCAPTCHA support to prevent abuse)
Share Count Total
Print Button
LinkedIn Share Button
Styling and Display
The plugin has 8 different button styles like Fancy, Slim, Classic, Block, Bar, Rounded, Buttons and Icons as shown in the below image.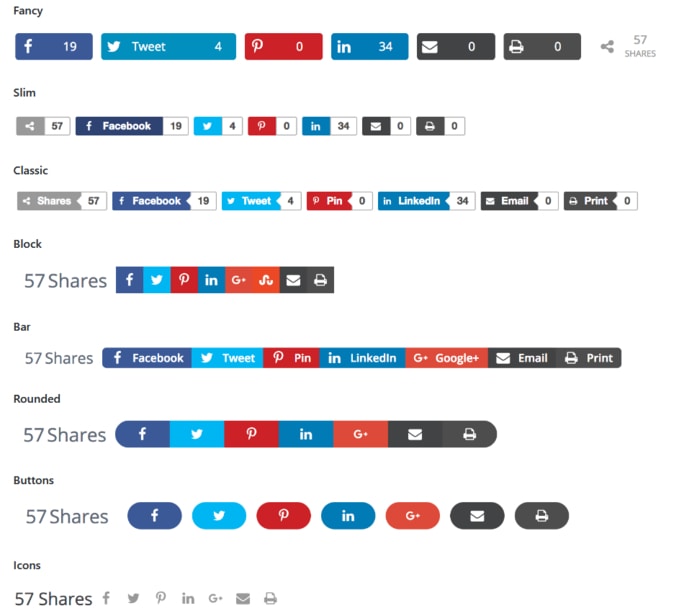 Installtion
Download the plugin from WordPress Repository.
Install the plugin. If you're beginner, read our step by step guide on plugin installation.
Navigate to Settings » Shared Control.

Now choose the appropriate buttons and configure the plugin.
Now click "Save Changes" to complete the configuration.
Usage
You can display the social share buttons automatically Before and After post/page contents.
You can also display it anywhere on the page/post using shortcodes.
The plugin (Shared Counts) is extremely optimized to work on large websites that get ten of millions of page views each month.
It has a unique built-in cache methods to save Server resources.
To retrieve share counts, register with SharedCount.com. Advantage of ShareCount.com API is, you can retrieve entire share counts in a single API request.
Finally, the plugin is extremely developer friendly and can be extended via hooks and filters.
Credits