WP Travel Engine is one of the best travel booking WordPress plugin to create SEO-friendly travel booking websites.
If you're looking to create travel and tour booking websites quickly then look no further, WP Travel Engine is the ideal WordPress booking plugin.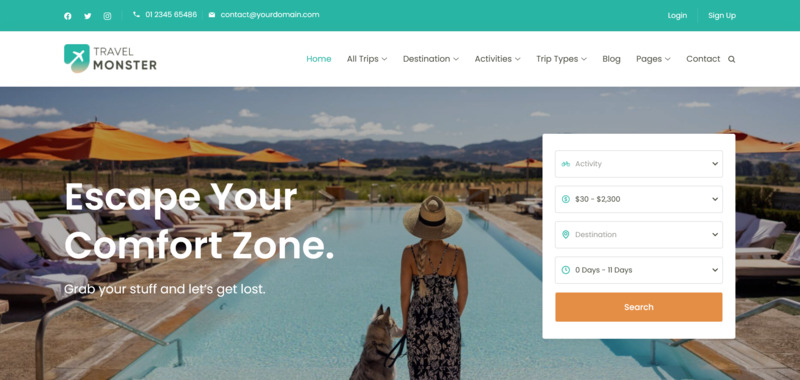 You can download the plugin from WordPress repository or from WP Travel Engine website directly.
WP Travel Engine comes with –
An easy-to-use itinerary builder
An advanced search feature
Ability to create and offer different packages
Schema integration
Easy booking process
Supports several payment system
Guests and Travelers Dashboard
Reviews and Social proof – A feature to build trust with the user
You can easily build a highly professional Travel Booking website using WP Travel Engine's free WordPress themes. They have arround 5 free themes. I have listed them below –
Travel Monster
Travel Muni
Travel Booking
Travel Explorer
Prime Travel
You can download the free themes here.
In additon, they also provide highly customizable premium WordPress themes to build travel booking websites. I have listed them below –
Travel Monster Pro
Travel Muni Pro
Travel Booking Pro
You can download the premium themes here.
WP Travel Engine plugin is perfect for creating following type of websites –
Single day or Multi-day travel and tours websites
Trekking websites
Camping websites
Surfing websites
Rafting websites
Jungle safari websites
Hiking websites
Summer/Winter holidays websites
Wine tours websites
Cruise websites
Premium Add-ons
WP Travel Engine plugin comes with several premium add-ons to enhance the travel booking process.
Partial Payment – You can set an upfront payment to tours.
User History – To keep track of your guests booking journey.
Trips Embedder – To embed trips on your website.
Group Discount – To offer group discounts to improve sales and revenue.
Itinerary Downloader – Creates itinerary in PDF format which guests can download and read offline.
File Downloads – You can add downloadable files to trips for guests to download.
Legal Documents – Add physical and legal documents to the site.
Trip Reviews – Allows guests to leave a review on the website.
Trip Fixed Starting Dates – You can add departure dates and times to all the tours.
Advanced Itinerary Builder – Create an enriched itinerary with a text editor and other features.
Per Trip Emails – Create custom emails according to trips.
Form Editor – To customize the forms with custom messages.
Email Customizer – Create customizable and personalized email templates for booking and payment notifications.
Currency Converter – Converts the tour price to local currency by detecting the user location.
Trip Weather Forecast – You can add weather forecast information to each trip.
Trip Fixed Starting Dates Countdown – You can add a countdown timer for the trip starting date and create urgency for booking.
Social Proof – Show users who have already purchased from you.
Zapier – To integrate WP Travel Engine with the Zapier automation platform
and much more…
Advantages of WP Travel Engine plugin
It's SEO friendly and fully optimized for Search Engines
Works with any WordPress themes
It's free and comes with paid add-ons
Extensive and easy to use documentation
Supports several payment gateways
It is fully translation ready and you can translate it to any language
Support is provided for both free and paid version